Taken from Out Magazine (March 1995)
Copyright Out Publishing, Inc.
http://www.out.com/
OUT
in
america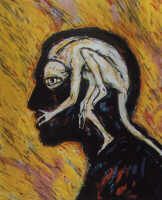 Clive Barker Raises Hell

- by Gregg Kilday

Halloween night on West Hollywood's Santa Monica Boulevard: British horror novelist - turned film director Clive Barker was strolling along, when suddenly he spied Pinhead, the geomtrically pierced demon of his Hellraiser movies. At a friend's urging, he decided to introduce himself. "Hi. I created you," he greeted the apparition. "Fuck off," snarled Pinhead, stalking away.

"It was the perfect metaphor for the creator and his creation," laughs Barker, a Victo Frankenstein who hasn't lost his sense of humor.

Since he splattered onto the scene in 1984 with the first of his eerie Books of Blood, Barker has grabbed the horror genre by the throat, ripped it apart, and reanimated it in an unexpectedly fiendish fashion. The Liverpool-born fantasist has unleashed dozens of monsters on the world: Pinhead and the punkish Cenobites, the shape-shifting Nightbreed, the tenement-dwelling Candyman. In February his newest terror, the Manson-like Nix, joins the line-up, With a Satanic command of black magic in the movie Lord of Illusions.

But curled up in an armchair in the sun-splashed living room of his Beverly Hills home 42-year-old Barker looksmore like a lanky Gap model than a prince of literary darkness. Engagingly modest, he insists, "All I've done is take a genre ired in Victorian values into a post - Last Exit to Brooklyn world. Horror fiction tends to be reactionary. It's usually about to return to the status quo -- the monster is the outsider who must be banished from the sanctum. But over and over again, I've created monsters who come from the outside and who call out to somebody to join them in the sanctum."

From the first first, his imagination also embraced sexual outsiders. "In the Hills, the Cities," his prophetic short story about two Yugosloav towns locked in ritual battle, begins with two Englishmen having sex in a wheat field. "Everybody said, 'Don't publish it,'" the author recalls. "But a lot of gay readers wrote to me to say, 'This is very cool.'"

Barker insists he never worried about alienating fans with his subversive displays of sexuality. "It's easy for someone in my postion to be gay," he maintains. "My books have always been full of sex . . . gay sex, lesbian sex, heterosexual sex. I'm interested in sex in all of it's expressions."

Though his growing involvement in movies led him to relocate from London to Los Angeles in 1990, Barker says, "I don't feel like an Angelino. But I like the extremes - the beauty, the muscle boys, the New Age and occult. L.A.'s trendiness doesn't interest me, though. I've never been hip or cool."

In fact, Barker has just emerged from several years in which he felt "cloistered away in an obsessive," turning out a massive fantasy novel, Imagaica; an illustrated children's fable, The Thief of Always; and his newest novel, Everville, in which he returns to the Jungian dream sea of Quiddity, first explored in his The Great and Secret Show. His avocation as a painter of Grand Guignol images has also turned professional, gallery shows in New York and Los Angeles. But it was directing Lord of Illusions that really got him out of his studio and back into the world.

For fans of TV's Quantum Leap, Barker's Illusions is a chance to see Scott Bacula take on the role of Harry D'Amour, a private detective who pops up frequently in Barker's fiction. "He's a regular guy," says the author, "who gets reluctantly mixed up with things bizarre."

That could well describe Barker's own career. "This is a great time for the fantasist," he says. "People's minds are open and eager. It astonishes me how many people find the paranormal so normal. Of course, they're also talking in a lot of nonsense. Have you seen that chat show, The Other Side? Housewives talking about giving birth to alien babies at 9 o'clock in the morning. And they call me a fantasist!" Barker laughs again, a laugh that's as sunny as it is saturnine.


Disclaimer: This page was created for the purpose of enjoyment and education. It is not my intent to infringe upon copyrights or trademarks. Alterations will be made upon request.